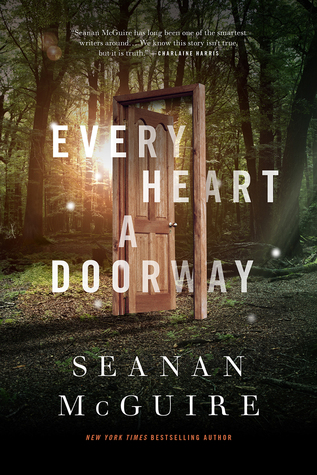 Release Date: April 5th, 2016
Author: Seanan McGuire
Website: http://www.seananmcguire.com/
ISBN: 9780765385505
Review:
I was one of those kids who tested wardrobe walls and kept an eye on looking-glasses, just in case. I devoured The Chronicles of Narnia and Into the Land of the Unicorns and Harry Potter, wishing the whole time that something so marvelous would happen to me. Many times, though, I felt disappointed by the last page. The child-heroes of these stories always returned to their mundane lives at the end. It annoyed me. Who would want to come back?
Every Heart a Doorway raises this very same question.
We meet our heroine, Nancy, on her first day at Eleanor West's Home for Wayward Children. Her parents think it is an upscale rehabilitation facility that will bring back the girl their daughter was before her "kidnapping". In reality, the Home is there to help children who can't find their way back to the magical worlds that once welcomed them. Some of them will never go back. Some of them will do anything to try.
If you like Neil Gaiman or Holly Black, this should be your next pick. Every Heart is the perfect thing to hand that precocious 11-year-old who reads too much, but don't be fooled: this is an adult book about teenagers, and kids are not necessarily the intended audience. I would have loved this novel when I was a preteen, but it wouldn't have punched me in the gut in the same way it did now that I'm an adult. McGuire's prose ensnares your heart and squeezes it every time you think you're done feeling poignant and mesmerized. It's not a long book — 173 pages — but she works every sentence to the bone.
But best of all? The representation.
I know, I sound like a broken record. If you spent most of your life fighting to see people like you and your loved ones on the page, you'd sound like one, too. That's why McGuire's inclusion of diverse characters is important, but more pressingly, it's important that it's so well done. Every Heart a Doorway is a story of (and for) the marginalized: heck, it's the mythic archetype. What else would you call a novella about misfit kids pining for a home where their quirks will be embraced?  This isn't an unusual trope, of course — every "chosen one" narrative from King Arthur to Harry Potter hinges on an out-of-place hero — but McGuire doesn't let the metaphor stay a metaphor.
We're seeing a shift towards more content with marginalized characters — especially gay and lesbian characters — but not the same shift toward content that respects or understands marginalized characters. If a show promises me lesbians, it has to prove it wants to do right by them (and its audience) before I'll take the bait. Every Heart a Doorway passes that test with flying colors.